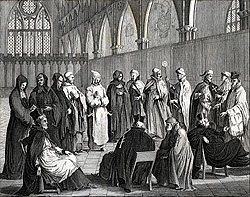 Open Space Technology
Use Open Space Technology. It's a technique that's been around since the 1980's. You can use it to create self-organizing meetings of between 5 and 1,000 participants with excellent results and a minimum of hassle for you, the event organizer.
After a brief orientation session, the Open Space meeting participants schedule their own breakout meetings and attend them. They then write their own proceedings for the meetings. On the last day of the event, everyone immediately gets hard copies of the proceedings from all the meetings, rather than having the proceedings mailed to everyone afterwards.
Not only has Open Space Technology been proven to work in a variety of settings, but the participants generally rate their satisfaction much higher than with typical meetings or conferences.
To learn more, Open Space Technology: A User's Guide by Harrison Owen is a great guide to the technique. You can use this book as a guide for understanding the entire process. I don't like the New Age stuff he sticks in the back chapters, but the technique is so simple and fundamentally sound that it would take a whole lot of fluff to irrevocably jam the gears. You can also skim the Open Space website, but the book is well worth the price.